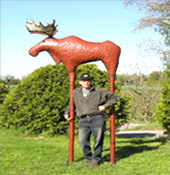 Jean Pierre Schoss
Heritage: Belgian
Raised: Woodstock, Ontario
Residence and Studio: Uxbridge, Ontario
Date of Birth: April 18, 1958
905-852-3085 Ph/Fx          email: btucker@zing-net.ca
Graduate: Ontario College of Art 1990, metal, jewelry and glass
Shows 1995-2012
Uxbridge Studio Tour (juried) 1995-2007, 2002-2007, 2009, 2010,2011, 2012
The Moose Show (juried) 1995-2012, CBC Bldg., Toronto
The Artful Garden (juried) 2003-2012, Bracebridge
Dundas Studio Tour (juried) 2005-09The Makers Hand (juried), Picton 2006-12
Toronto Outdoor Art Exhibition ,(juried) 2005-2007, 2010
The Green Living show 2007-08
Sundance Studio Tour, (invitation) 2008, 2012 Ottawa
The New Art Festival, Ottawa,(juried) 2009-2012
Kiwi Gardens, 2009 – 2012
Art in the Park ,juried, Warkworth, 2012
Gallery Shows – juried
Wigren-Barlow Gallery (Woodstock, Vermont)
Jane Corkin Gallery, Toronto.
Harbinger Gallery, Waterloo,
Kent Farndale Gallery, Port Perry.
Art Gallery of Hamilton Invitation Spring Show, Harbinger Gallery Group Show 2008, 2009
Royal Botanical Gardens Canadian Sculpture, Hamilton 2008,
Gallery 133, Toronto,
Ontario Craft Council Guild Shop, Toronto.
C1 Art Space, Toronto
Documentaries- Television
CBC documentary by Michael Glassburge, Artist's Lives Across Canada 2005
Harrowsmith Life ( life of JP Schoss)
Weird Homes
Galloping Gourmet – Collaboration of art and Gourmet foods
Corporate Collections 2006-10
Jean Pierre's work is in numerous private collections in Canada and abroad.
McLuhan and Davies, International communications firm, Toronto
Gae Lee corporate foyer, Mississauga, Ontario
Toronto Parks and Recreation, Humber Valley Parks, 16 sculptural works
Awards
Platinum Award for Recycling by the Ontario Recycling Council of Ontario 2007
Toronto Outdoor Art Exhibition- Best in Metal 2005
Ontario College of Art. Graduate Show Award Bursary 1990
I use recycled materials for a number of reasons. First, it is our responsibility to contribute to this world in as many ways as possible. Garbage is a great place to start.
Oil tanks are costly to cut up and recycle so the scrap yards don't want them. I began using oil tanks, water tanks and propane tanks to save money because the steel was so expensive. I soon realized what I was doing. The recycling had become part of my life.
I began to look for more items that could be recycled into my work. If it is thick enough to last for years and years then I am interested. People bring me all sorts of things. I drag things out of the ditches some times and then the earth feels better! I drain the tanks of the sludge and oil and take it to the recycling depot. There is quite a process to getting the steel ready for the sculpture.
The material has a lot of character and always tells a life story. It has a lot more to say than a big, expensive sheet of new grey steel. Some tanks have many layers and colors of paint on them from being painted over the years to match houses and cottages.
Some of my work involves old tools, steps from antique carriages and 70 year old manure spreaders.
I never see just a steel object. I see the new life waiting to come out of it."