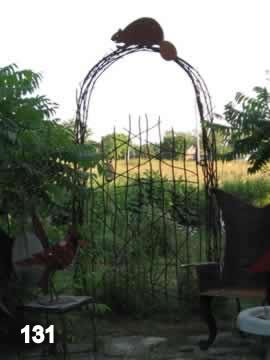 Steel Art Maintenance Instructions
To preserve the paint or surface of our steel sculptures simply spray on a clear urethane by Tremclad. U can find it at Canadian Tire or Home Depot. We already have given the work a spray. When u notice it is dull or rusting give it a quick, even spray and it will protect the steel and paint again. Acid rain and the sun slowly weather off the clear coat over time. U can do it a few times a year or more if you have had a lot rain. Spray the bottoms as well especially if u want to prevent rust on whatever the piece is sitting on outside. Consider putting a flat stone, wood or some sort of base under the sculpture to protect your deck or floor if the work is exposed to rain. Inside pieces do not need to be sprayed. Some people bring their pieces in for the winter. In that case they do not seem to weather much at all so require very little or no additional spray. Tremclad dries very quickly. In about 5 minutes. Spray in a ventilated area or outdoors. U can spray in the cold weather but keep your can of Tremclad indoors so it is kept warm. You can let your pieces rust as the years go by if u wish and if they reach a look u really love then u can begin to spray to keep that look.
The KBS website explains application processes very clearly. We use it for large outdoor works and railings.
Our work is made from recycled oil tanks and propane tanks so the steel is very thick. The work will last for decades without requiring any maintence. If you do not use a protective clear coat u will simply lose the paint over the first few years and the work will develop a deep terra cotta rusted surface. The propane tanks have a very tough paint and weather more slowly. Maintenance with a clear coat is your choice.
Feel free to call or email any time if you wish to visit or need more information.
Thank you for collecting our work.